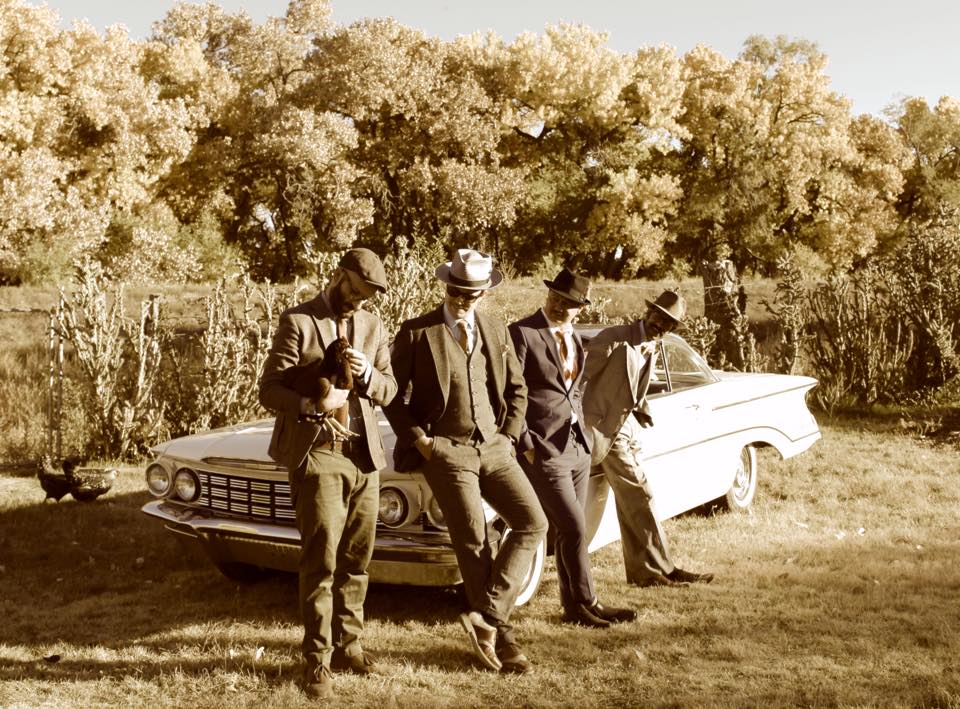 photo by Myriam Tapp
Its Feb-roo-airy!

That's how I pronounce it anyway. Am I the only one?How do you say it?Here is what we are up to this month:February 2019Thursday, February 14th
​Valentine's Day!Le Chat Trio Nob Hill Bar and Grill, Albuquerque, NM6:15pm -9:15pmSunday, February 17thCasa Rondeña Winery, Albuquerque, New MexicoMerlot Rosé Release Party

2:00pm - 5:00pm

Sunday, February 24thCanteen Brewhouse

, Albuquerque, New Mexico

4:00pm - 7:00pm

Saturday, March 2ndThe Launchpad, Albuquerque, New MexicoDust City Opera CD Release Party!8pm: doors9pm: Bill Palmer's TV Killers10pm: Le Chat Lunatique11pm: Dust City OperaFeb-roo-airily Yours,Le Chat Lunatique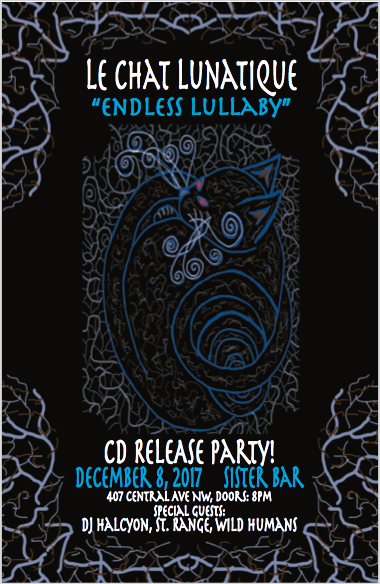 It's finally here!
​Our first CD of ALL ORIGINAL tunes in over 10 years will finally be available for you to get your grubby little paws on THIS FRIDAY!!!

This CD has everything you ever wanted in a CD:
Sounds produced by people striking items with other items
Sounds produced by people rubbing hair on wires
Sounds produced by people plucking wires with plectrums
Sounds produced by people plucking wires with digits
Sounds produced by ululating vocal chords
And other sounds too--like breathing

Other fun facts:

One out of every 30 CDs contains free Houston Oilers tickets.

One out of every 70 CDs contains a free shard of dried seaweed.

If you look very closely at this CD you will see millions of tiny ones and zeroes.

Buying a Le Chat CD makes you 30% more attractive.

Each CD is guaranteed to be circle-shaped.

You can trace the CD if you want to draw a stop sign.
(a round one)

This CD will add more curb appeal to your house.

This CD can teach you Karate.

This CD is 65% genetically identical to any Pantera CD.

This CD requires no refrigeration if used with 60 days.

If you hold the CD up to your face and peer through the little hole in the middle, you will see GOD.


Friday, December 8th
Le Chat Lunatique CD Release Party at Sister Bar
8:00- doors
8:30- DJ Halcyon
9:30- Wild Humans
10:30- Le Chat Lunatique
11:30- St. Range

21+
$10 cover
https://sisterthebar.com

Factually Yours,
Le Chat Lunatique



​

Our new CD is almost done!We recorded it last November and are finally doing something about it. We think you will like it. Rennie Sparks from the Handsome Family is doing the art/design and it is looking totally rad. It will have 11 tracks of all original tunes. Our first CD of all originals in over 10 years! And you know what that means? We're OLD! (except Greg- there's still a tiny little bit of moisture behind his ears) And even more importantly: We don't hafta pay Harry Fox!! Hooray! The CD release party is in December- See below for details.
Also- we only have ONE (1) public show for you this month. And it is tomorrow!
November 2017Thursday, November 16th
Private Party, Albuquerque, NM
7:00pm - 9:00pm
Friday, October 17th
Monte Vista Fire Station, Albuquerque, NM
9:00pm - Midnight
https://www.facebook.com/MonteVistaFireStation/
Saturday, November 18th
Private Event, Albuquerque, NM
6:30pm - 10:30pm
December 2017


Wednesday, December 6th
Bach's Lunch at First United Methodist Church, Albuquerque, NM
12:00pm - 12:30pm Lunchtime Concert
http://kaempermusic.com/bach-s-lunches.aspx
Friday, December 8th
LE CHAT LUNATIQUE CD RELEASE PARTY!!!!!
Sister Bar, Albuquerque, NM
With special guests:
St. Range
! and more to come.....
Time: TBA
https://sisterthebar.com
Saturday, December 9th
Private Party, Albuquerque, NM
8:00pm- 11:00pm
Wednesday, December 13th
TBA
Saturday, December 16th
Wedding (Private), Santa Fe, NM
4:00pm - 8:30pm
Releasingly Yours,
Le Chat Lunatique