An 11-wheeled Le Chat Lunatique: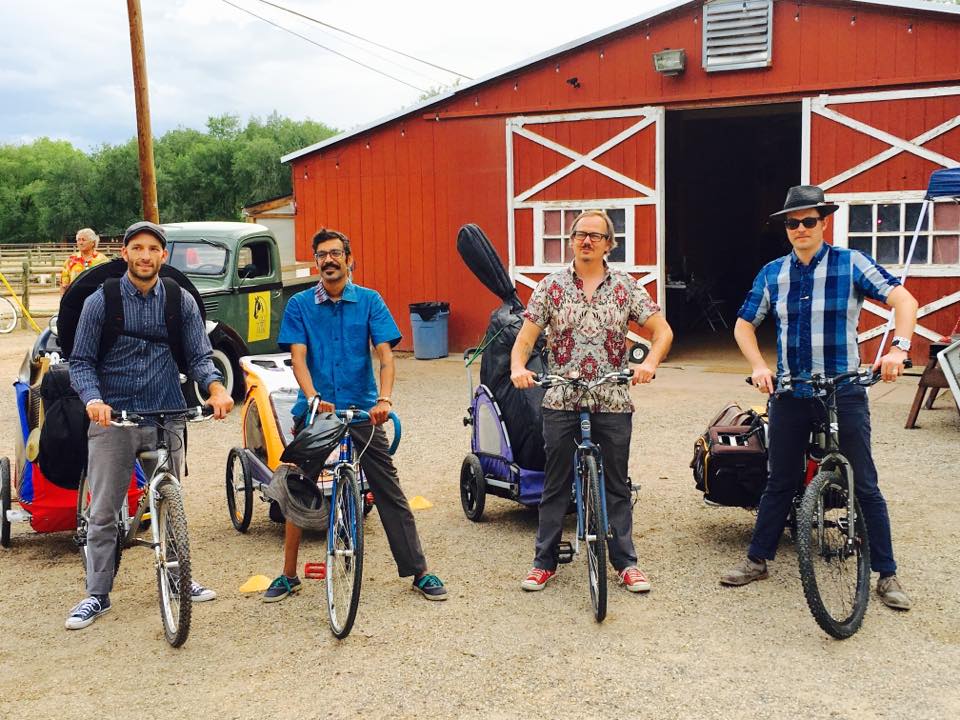 We all biked to a show!They all laughed but we proved them wrong! It IS possible for a 4-piece filthy mangy jazz band to bike to a show with all their gear in tow, and we proved it last weekend at Old Town Farm. We had a great time and thanks to everyone who came out to the the bike-in concert. See what other implausible shenanigans we are up to this month....
August 2016Saturday, August 6th
Zinc Wine Bar and Bistro Cellar Bar, Albuquerque, NM
9:30pm - 12:30am
http://zincabq.com
Sunday, August 7th
Corrales Growers' Market, Corrales, NM
9:00am - 12:00pm
http://corralesgrowersmarket.com
Friday, August 19th
ABQ Food Friday at Civic Plaza, Albuquerque, NM
5:30pm - 8:00pm
http://www.visitalbuquerque.org/abq365/events/detail/ABQ-Food-Fridays/29631/
Saturday, August 20th
Mac 'n' Cheese Fest
Albuquerque Balloon Museum, Albuquerque, NM
2:30pm- 3:30pm
http://www.themacandcheesefest.com/event-details.php?id=5
Monday, August 22nd
Kellys Brew Pub, Albuquerque, NM
New Ownership Party!
6:00pm - 9:00pm
http://www.kellysbrewpub.com

Thursday, August 25th
Canteen Brewhouse, Albuquerque, NM
6:00pm - 9:00pm
http://brewery.ilvicino.com
Saturday, September 3rd
Scalo Il Bar, Albuquerque, NM
9:00pm - Midnight
Implausibly Yours,
Le Chat Lunatique